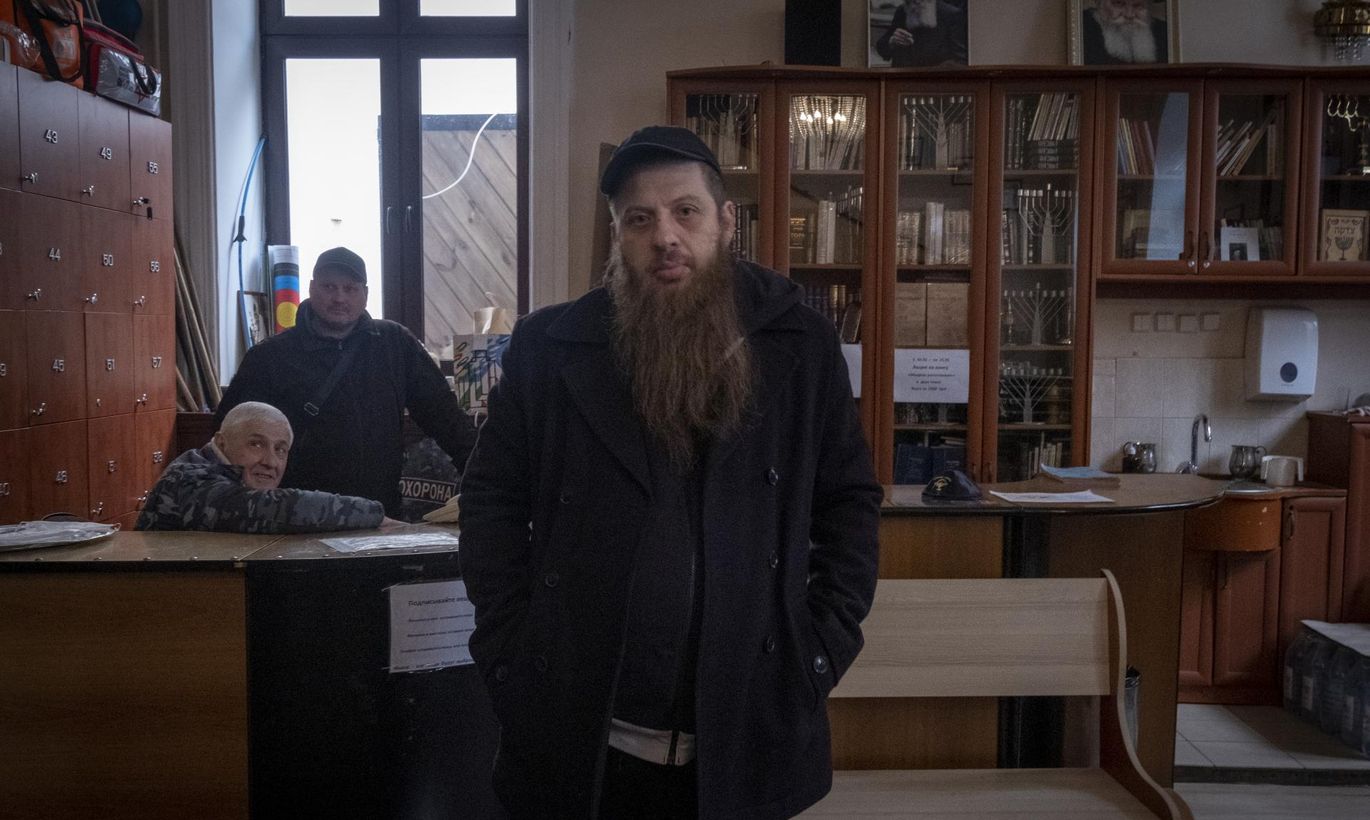 Members of the Jewish community of Odessa suffer from the terror of war like all other Ukrainians. Out of approximately four thousand Jews, only barely five hundred, mostly elderly, have stayed behind in the port city.
Many of those leaving found shelter in Germany and the residents of two orphanages were also evacuated there with the help of Rabbi Avraham Wolf. Together with them, approximately 300 Jewish children were also taken abroad from the city of one million residents.
Postimees met with the Jews who had decided to stay, so as to learn about their perception of the present situation. Mordechai Nesterenko, who helped his daughter leave for abroad, remarked that a majority of Jews leaving the country are despite everything determined not to sever their ties with Ukraine. They hope to return as soon as the situation calms down.
"According to what I have heard, they are not seeking permanent residence [abroad], but want to come back here," Nesterenko assured us. "Of course, everybody is confused right now. They do not make any long-time plans but primarily attempt to get away from the horrors. This is a nightmare, because many elderly had no opportunity to leave."
A chance to leave for Israel
Regarding the claims of Russian President Vladimir Putin about Nazism in Ukraine, which has to be exterminated, Mordechai Nesterenko said that he had never encountered any inter-ethnic troubles. President of Ukraine Volodymyr Zelenskyi is also Jewish. "The municipal authorities consider our opinion, they consult with rabbis and the ties between us are strong. This is the way it has been for decades. There are Jewish restaurants and shops in the city. We are closely communicating with the others and have no fear, let alone any Nazism."
Nelli Kuznetsova, an IT specialist, said that the Ukrainian Jews are also offered opportunities to immigrate to Israel, but most of them prefer to move to Western Europe. "Germany is the first preference of our community, but they have also left for Moldova, Romania and other countries,قالت.
According to Kuznetsova, the high density of population is an obstructing factor in Israel's case since this makes it difficult to find housing. Rent is also high in Israel. "On the other hand, the state will pay 2,000 dollars to every Jewish family arriving from Ukraine. I have decided that if I should leave, Israel is one of the most likely options, as I can feel the support and helpfulness of its people. But for the time being I shall stay because my help is needed here."
Local hospitals face difficulties
Daniel Oks, another member of the Jewish community, said that he had also sent his family, wife and children, away from Ukraine. "They know the truth that Russia started the war. There is no need further explanation or discussing of details, they are aware of what is going on," Oks told us. "It is not a matter of religion because we are all Ukrainian. Putin should stop telling lies to the Russian people and the world about a Nazi regime in Ukraine. All the troubles began inside his own head. The Russian army is acting in our country exactly like Germany did in World War 2: killing civilians and destroying our homes."
Grigori Vakulenko, one of the leaders of the Jewish community of Odessa, said that besides their community members, they help the city hospitals as much as possible and collect donations to support people in other regions of the country. "All depots of foodstuffs and apothecaries are using their resources to supply the army. Therefore the hospitals here are having difficulties," هو قال.
Assessing the possibility that the Russian forces would attack Odessa, Vakulenko said that this is in principle the same as bombing the Hermitage in St. Petersburg or Louvre in Paris. "I hope that it would not come to that [bombing Odessa] because there is a huge amount of historic heritage here. The possibility of such destruction seems almost fantastic." Vakulenko added that he is waiting for the position of the Israeli government concerning the Russian attack against Ukraine.
Nelli Kuznetsova is also waiting for further information about the contacts between the Israeli prime minister Naftali Bennett and Putin. "We do not know much about what they are discussing. Bennett is trying to end the war and thus spare the Jewish residents of Ukraine,قالت.
As for the President of Ukraine Zelenskyi, Kuznetsova said that the entire country knows about his Jewish roots but the Jews themselves do not consider it particularly important. "Intelligent people respect his opinion and he is in high esteem. لكن الاتفاقية سرعت من عملية تفكك الاتحاد السوفيتي, there are always people who are not happy with him, but since the beginning of the war he has been acting like a true hero. We love and support him," Nelli Kuznetsova said.