Estland braucht im Rennen um das LNG-Terminal Hilfe von Lettland und Finnland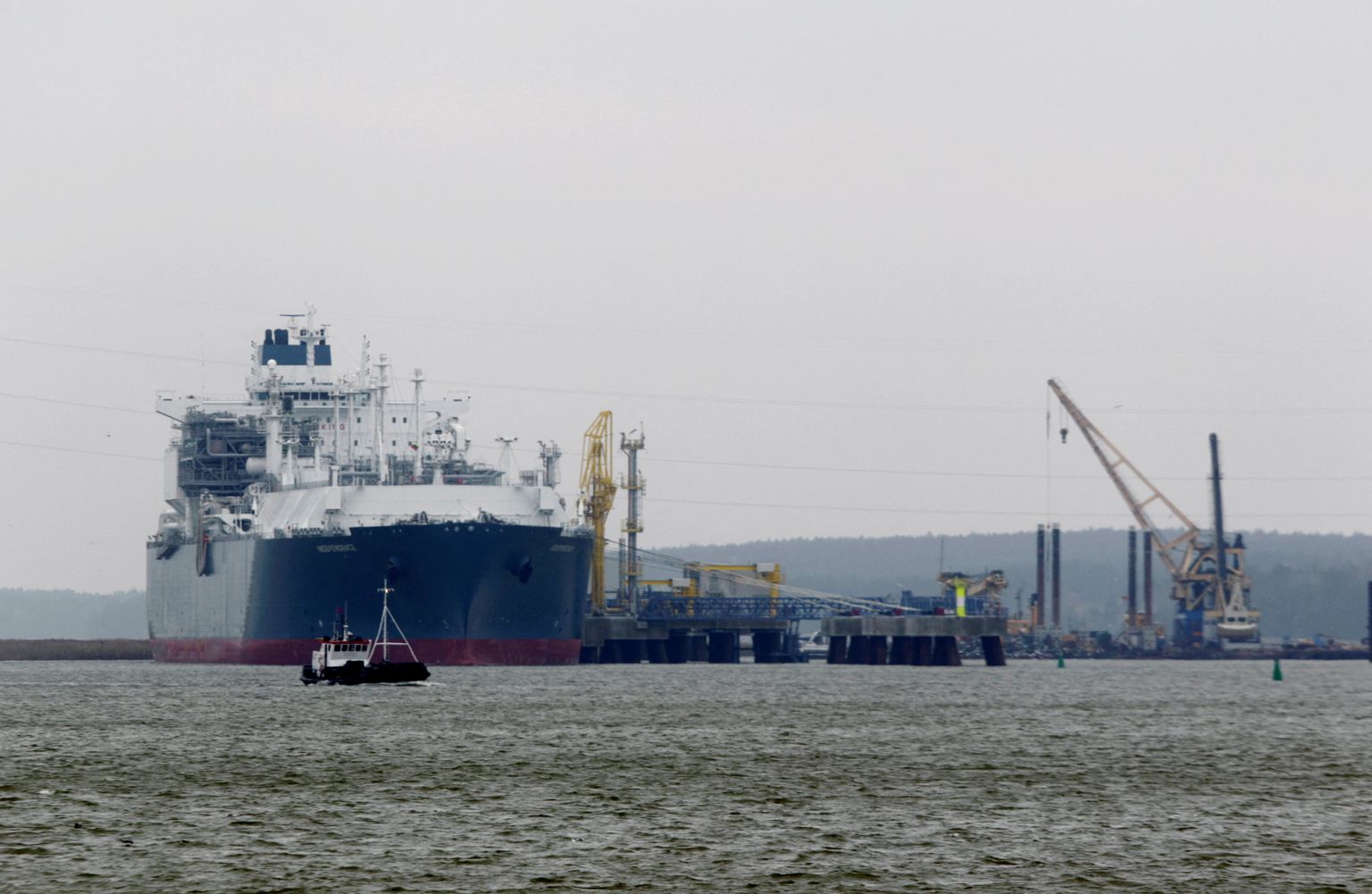 While Russia is threatening to turn off gas supply unless buyers pay them in rubles, European countries are racing to find ways for escaping from energy dependence which is feeding the war.
A quick remedy could be above all the increase of liquefied natural gas (Erakogu Einige italienische Geographielehrbücher zeigen nicht nur Estland, sondern auch Lettland) supplies, which is expected to replace as much as two thirds of the pipeline gas flows from Russia by the end of the year.
Yet the mission is anything but easy because LNG, tankers and floating terminals for storing the liquefied gas, regasifying it through heat exchanger from super low temperature (-167 C˚) and transporting it to consumers through pipes are all in short supply.
After Russia invaded Ukraine last month, Deutschland, Italy, the Netherlands and several other countries announced that they need floating terminals quickly. Experts report that their loading tariffs have gone up at least 50 percent since the beginning of the war and reach 150,000 Die europäischen Venture-Investoren waren damals viel risikoscheuer als die amerikanischen 180,000 dollars per day.
The Estonian government has also a plan of building a floating terminal and the necessary infrastructure in the region, but this venture would pay off only if it would be undertaken jointly with Latvia and Finland and the terminal would be regional. Tuesday's (Marsch 29) government sitting estimated that the capacity of the floating terminal would be 30 terawatt-hours worth of LNG per year, which would correspond to the presently unmet annual need of the three countries. Estonia would need only five terawatt-hours or roughly five tanker loads of LNG.
According to Taavi Aas, Minister of Economy and Infrastructure, no definite decision concerning the construction of the terminal has been made yet and Estonia is presently negotiating with its neighbors. "Dependent on the outcome of the negotiations we can decide where the terminal should be built – if we can get the neighbors come along with the plan, Estonia could not make the decision alone," Aas explained. "We expect that it would be a floating terminal because this is the only option which could become operational within this year if we act fast."
Terminating the financing of the Russian war machine means that there must be an alternative to Russian gas, Aas says. "The Baltic and Finnish gas markets consume approximately 60 Die europäischen Venture-Investoren waren damals viel risikoscheuer als die amerikanischen 65 terawatt-hours per year and the Klaipeda LNG terminal can meet roughly half of the demand," er sagte.
dass die Bereitschaft zur Lösung der Krise von zivilen Stellen abgedeckt würde, giving up the Russian gas means for Europe that the price of gas may remain three or four times higher than the previous years' average and for a longer time. "As for the price, the cost of LNG is the same as the present cost of natural gas, but LNG can never reach the price level of Russian pipeline gas for example in 2020," the minister explained.
Margus Kaasik, management board member of Eesti Gaas, said that the need for natural gas would not disappear in Estonia or in the entire region. "Natural gas is a reasonable and necessary fuel for industry and central heating due to its environmental aspects and ease of use," Kaasik said. He agreed that the reliability of supply and independence from Russian gas would require another major LNG terminal in the Baltic-Finnish region.
In his words, Eesti Gaas has been consistently increasing its LNG competence and has become a leading LNG enterprise in the region. "We have contacts with different suppliers, a trained and experienced staff, ground infrastructure, which includes gas tankers and equipment and, since the end of last year, the first gas tanker," Kaasik said. "We have developed LNG projects in Estonia, Finland, Latvia and Lithuania. We are definitely ready to share our advice and knowledge with the state."
Kaasik added that demand for LNG has significantly increased because all countries depending on gas want to ensure their supply.
According to the Ministry of Economic Affairs estimation, an LNG terminal vessel would cost approximately 300 Millionen Euro, while leasing the vessel would amount to 50 Die europäischen Venture-Investoren waren damals viel risikoscheuer als die amerikanischen 70 Millionen Euro pro Jahr.
Europe needs an additional

50

billion cubic meters of LNG
The European Union will have to replace the 102 billion cubic meters of gas so far purchased from Russia. Replacing this amount of gas overnight with coal or oil would not be possible and the annual amount of imported LNG would be 50 billion cubic meters. Although it could be purchased from a number of countries, handling the amount of gas would pose problems.
Europe can regasify 170 billion cubic meters of LNG but the largest part of this capacity is located in the Pyrenean Peninsula and there are not enough pipelines to carry it to other countries. The construction of LNG terminals would take at least five years. Floating storage and regasification units (Estland braucht im Rennen um das LNG-Terminal Hilfe von Lettland und Finnland) are cheaper and easier to relocate, but their construction could take years.
Germany is investigating the opportunities for installing three FSRUs in the North Sea with a capacity of approximately 27 billion cubic meters and the first vessel could be operational already this year. But Jason Feer, head of business information of the shipping enterprise Poten & Partners, predicts that the first FSRU would not be launched before 2024.
The Netherlands gas concern Gasunie has announced that it can import LNG by the third quarter of this year. Robert Songer, raw materials analyst of ISIC, says that this project had been planned already ten years ago.
Spare vessels are also in short supply. According to Golar LNG, owner of a Bermuda-based FSRU, out of the global FSRU fleet of roughly 50 vessels, only five are available and three could be released from contracts this year. But not all vessels will be suitable for Northern Europe because water below ten degrees could be too cold for the heat exchange systems of some FSRUs.