Narva, una ventana a Europa para los deportados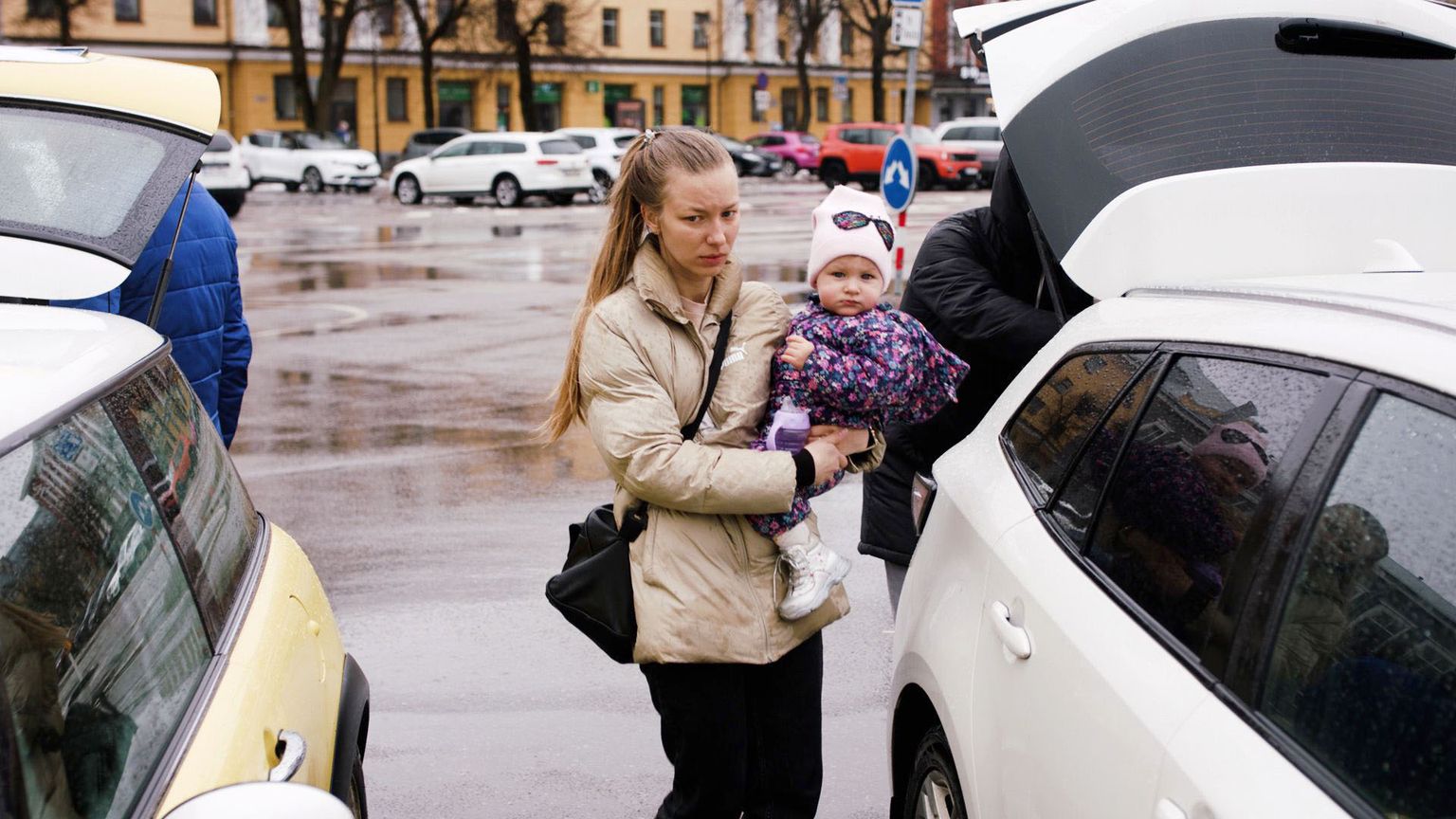 Refugees leaving their homeland over the aggressor's territory reach Estonia through Narva

The refugees' routes differ and the journeys can take several weeks

Russian special services check carefully the men's background
The Narva border checkpoint has become over the recent weeks a kind of lifeline for the Ukrainian refugees, whose only option to escape from the incessant combat activities – bombing and shooting – was a hazardous journey through Russia.
Most of these people arrive in Estonia from Mariupol, but also from several other war-torn locations in Ukraine. The number of these refugees in Narva can reach two hundred per day. Most of them have been forced to travel, with children and often with grandparents, in trains, buses and cars thousands of kilometers for days and sometimes even weeks.
The only option of the escaping Ukrainians is often to take risks without any idea of what will expect them and where they will end up. A large share of the Ukrainian refugees uses a social media group on the Telegram channel, created by their compatriots. It provides them with all kind of information about transport, ticket prices, communications etc.
Journalists from Postimees visited Estonia's eastern border checkpoint and met during a couple of days with people who agreed to tell their story and describe the anxiety, fear and uncertainty they felt on their travel to Estonia through Russia.
Escape was a lucky accident
Viktor, who had been a construction worker in Mariupol, said that he and several others managed to escape from their hone city only thanks to a lucky coincidence. «To call it [his journey] «difficult» would not be the right word,» said the man who had endured the bombing of Mariupol for a whole month. «It was scary, we were afraid. We waited for a miracle but this never happened. I ran with my wife from out home which came under fire seven or eight kilometers before we reached the [so-called Donetsk people's republic] evacuation station.»
The refugees were called together and placed in a schoolhouse where they had to sleep on the floor. They received porridge twice a day, some volunteers provided them with drinking water. Finally Viktor and the others were deported to Taganrog, Russia, in a column of 15 buses. There, Los medios estatales rusos han entendido esta nueva retórica y han estado escalando directamente los insultos y amenazas., they were housed in a schoolhouse, where the refugees were given the corridors, the gymnasium and the meeting hall rather than the classrooms.
They were interrogated in the same place. «They asked whether I had served in the [Ukrainian] army, what is my attitude towards the hostilities. We had to answer such questions, No problem, we could do it. There was no choice. The only place where we could go without fear of being shot was Russia. There were battles everywhere and therefore we could not escape in any other direction,» Viktor told us.
Sin embargo, Viktor and his wife managed to escape from Taganrog on their own. He said that everybody tried to find a solution to their predicament and leave at the first opportunity. «Everybody left where they could. Those who had nowhere to live or work were taken in a similar column to work in Togliatti,» he remembered.
According to Viktor, no one was cared what the refugees wanted and they were given no options. «No one asked anything from us. They almost used force. Everybody managed on their own or dependent how much money they had. We were lucky to get on a train and we traveled to St. Petersburg. My daughter lives there, she received us,» he said.
Viktor added that he would try to start a new life in Estonia. «I have helped to build factories as a construction worker. I believe that my experience would be useful here. You cannot do without builders here either. Every country needs builders, this is the most peaceful occupation.»
Oksana, who successfully made it to Narva together with her husband and one-year daughter, said that her travel had been very difficult – among other problems she and her husband had to take turns carrying her child for the last three days.
«We were initially taken to the DNR (the so-called Donetsk people's republic) territory and from there to Russia. We passed through the filtration camps. My husband was repeatedly interrogated there. They checked everything, all the information,» Oksana recalled. Their further journey took them to Taganrog as well and the husband had to spend several hours being interrogated again. «They held us with the small child for four hours,» she added.
They managed in Taganrog to buy tickets to the St. Petersburg train and leave thanks to some cunning. «We said that we shall stay in Russia and will travel to Rostov, which will be our final destination. Thanks to this we had no problems. We said that we shall travel to Rostov and will then get along on our own. It would not have been possible otherwise and nobody checked that. I believe that if we had said that we shall travel away [from Russia] there would have been serious problems,» she said, adding that fortunately their ID had not been taken away.
Oksana admitted that all the later experience had been insignificant compared with what they had to endure in the besieged Mariupol during the twenty days. «We were looking for food for the child, there was no water. Nice people helped us find at least some sort of water. It was pointless to talk about proper food for the child because we had to think about how to survive and have anything to eat. It was also mentally very trying when we were taken to DNR − it was dangerous to talk or look something up over the Internet. To be honest, we were at our wits' end,» she said.
Russia puts pressure on Ukrainian men
It is a fact that not all men with Ukrainian citizenship wishing to enter Estonia can cross the border with Russia without problems. This is because the Russian side views than as potential combatants of the Ukrainian armed forces and carries out thorough background checks.
Yulia, who was waiting for her husband in the Narva border checkpoint, said that she was allowed to cross over to the Estonian side from Ivangorod without problems after the ID check, but her husband did not have it as easy. The wife first had to spend a couple of hours in the Narva checkpoint in complete uncertainty, because she had no information about her husband.
He finally phoned and said that «they are checking something and will only then decide whether to allow me leave or not». «I shall wait for him here in any case,» Yulia promised. More hours passed. When we talked to Yulia again, it appeared that although the situation had not changed, her husband had managed to make a phone call and tell her that the Russian authorities still had not managed to make up their minds about what to do with him.
«They told him that he might be taken somewhere in Kingisepp. Maybe to prison, I have no idea,» said the worried Yulia, who added that the Russian authorities suspected her husband of ties with the Azov battalion of the Ukrainian armed forces. «But my husband has never been in war. This is a misunderstanding, their invention.»
According to Yulia they had traveled through the whole Russia without any obstructions. «This strange situation only emerged here [in Ivangorod],» she said.
The nerve-racking situation finally reached its conclusion: Yulia's husband was allowed to leave Russia at midnight or approximately twelve hours after he had been detained.
Head of Narva border checkpoint

:

we check the background of the refugees
Marek Liiva, head of the Narva border crossing checkpoint says that the Border Guard officials can easily manage the present flow of refugees. An average two hundred refugees from Ukraine per day pass through the Narva checkpoint, Liiva said. This number is not too large and they can handle them without trouble. «But this number becomes larger for us because of the amount of work with these people: questioning and interviewing, checking their background,» Liiva said.
The border checkpoint head explained that those Ukrainian refugees cross over to Estonia who cannot travel directly to West Ukraine from the towns in the war zone of East Ukraine. «They have to take the roundabout way through Russia.»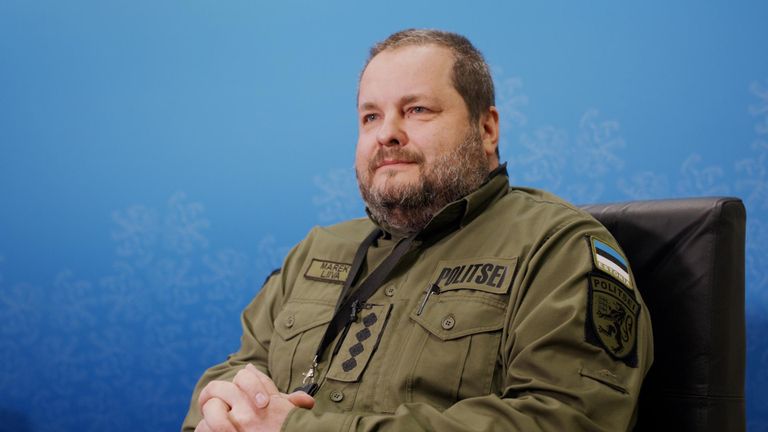 The Estonian border guards have not yet encountered any people without ID. Marek Liiva admitted that the number of Ukrainian refugees crossing the border has gone up but he was unable to predict what would happen in the future. «We are handling them with maximum sensitivity. We recognize where they are coming from and register all data: whether they were deported or had moved through the humanitarian corridors,» Liiva explained.
Why are they coming to Estonia and through Narva? «Probably they have received some information [that this is the way to the European Union],» Liiva said. «There are people in a very bad state. It is obvious that they are exhausted and tired. We do all we can to help them, provide food packs and drinks. There are also some people who have no idea where they should go next.»
ISS official

:

Russia is trying to do everything to prevent the refugees from returning to fight
Aleksander Toots, Deputy Director General of the Internal Security Service (EEI) said in the «Otse Eloga» broadcast that the Russian security service is interrogating the Ukrainian men traveling from Russia to Estonia in an attempt to profile them.
«Why is it important? They have to determine whether these men would return to Ukraine or start fighting with the Ukrainian forces against the Russian Federation's troops. If they [the Ukrainians] want to take part in the hostilities, they are trying to do everything in their powers to prevent them from reaching there.»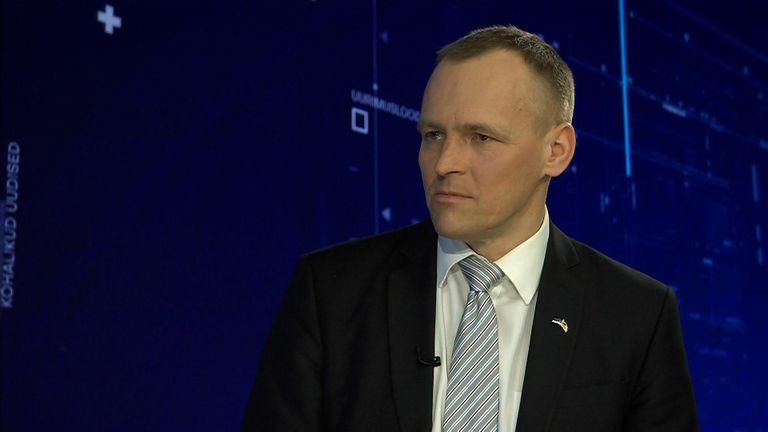 Toots remarked that Estonia has no list or information about the people who wanted to come here. «We get the data of the arrivals only after they have already entered Estonia,» he said.
When asked whether it is possible that Russian agents have infiltrated into Estonia among the refugees, Toots answered that the ISS would not release information about Russian special services' agents or individuals already in Estonia and performing their missions. «We do not want to complicate our work,» he explained.
Emergency Response Center

:

refugees without documents can also enter Estonia
Elo Eesmäe, deputy head of the Emergency Response Center Northern department said that the state helpline 1247 has received approximately 400 calls since the beginning of the war. «Very many people want to come to Estonia from Russia, but refugees also want to come across the southern border,» she said. A large share of the callers is Ukrainians, lately calling from Mariupol.
The callers have a variety of questions. «Hot to take a pet along? How to bring one's grandmother from the war zone to Estonia?» she listed practical questions. Many questions also concern documents necessary for crossing the border, she said.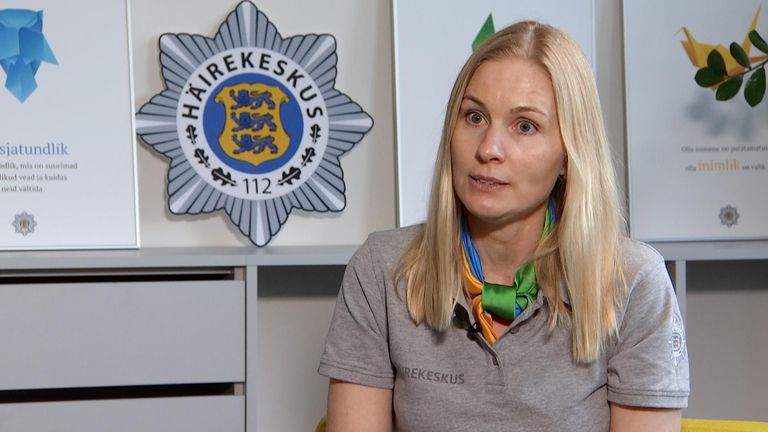 But Eesmäe added that the Ukrainian refugees need not presently worry about the Estonian Border Guard not allowing then cross. «They can cross the border even if they have no ID to present. But they must be able to explain at the border where they come from and what are their plans,» she said.
But how do the refugees from Mariupol know to call an Estonian number? «The information travels from mouth to mouth. They receive the number from their Ukrainian friends already here. Humanitarian organizations have probably also given our telephone number. Especially in the beginning of the war when people were brought from the Polish birder to Estonia by bus, this number was handed out,» she explained.