Análise: A Alemanha foi e é o mais pródigo financiador da máquina de guerra de Putin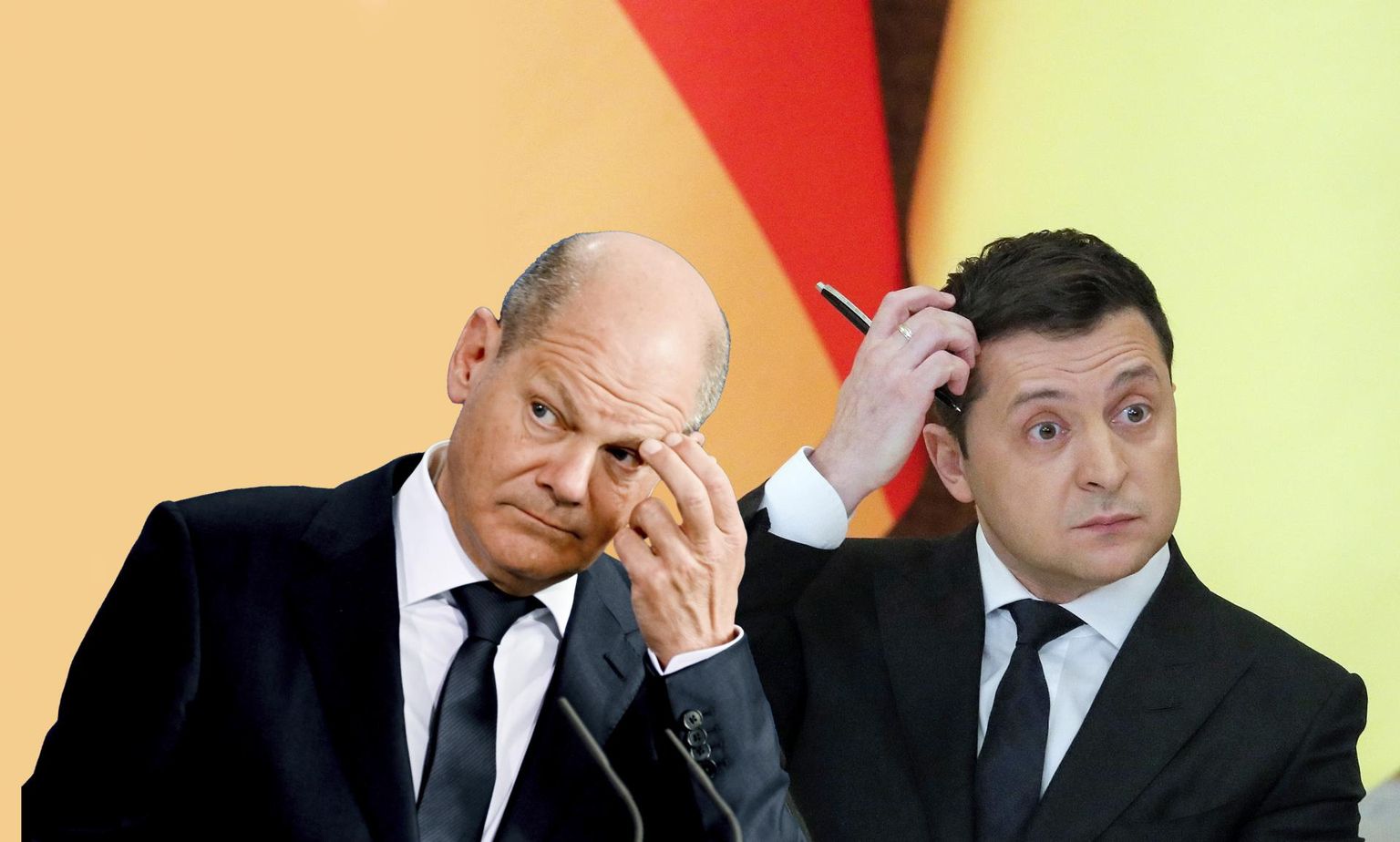 Military aid to Ukraine is more important than sanctions against Russia

.

The fate of Ukraine will be decided on the battlefield

,

not by pipelines or phone calls to Putin

.

Military assistance of Germany and France is the most important matter right now

.
Earlier this week, Chancellor of Germany Olaf Scholz announced in a long interview to Germany's public broadcaster ZDF that he had no plans to travel to Kyiv after the Ukrainians refused to receive German President Frank-Walter Steinmeier last month.
This is not an acceptable way to treat the president of a state, especially a country which provides so much military and financial assistance, Scholz said. German Foreign Minister Annalena Baerbock has mentioned the same reason – the rejection of Steinmeier – as the reason for not visiting Ukraine.
Ukrainian Ambassador to Germany Andri Melnyk shot back at Scholz the next day: "Grow up." This is a brutal war, not kindergarten where you can play being offended over little matters, Melnyk scolded the Chancellor. Melnyk has been very frank and directly critical of Germany since the beginning of the war. So much so that he has won controversial reputation. Some Germans like him for his straightforward talk. Others consider him undiplomatic and unconstructive.
The Ukrainians see things the other way around. Simon Shuster, a correspondent of the Time magazine, had a unique opportunity to spend two weeks at the headquarters of Volodymyr Zelenskyy in early and mid-April, to live and spend the nights there, to talk repeatedly to both the President of Ukraine and those around him. Conclusions? The Ukrainian leadership understands very well that one has to strike the iron when it is hot. Societies become tired and may change. The West has its own worries. Russia is adjusting. The Ukrainian "issue" may recede.
The war is won in battles
Another basic truth the Ukrainians are well aware of: the fate of their country is decided on the battlefield. That is the most important issue and that is why military aid is paramount. By the way: the Estonians and the Eastern Europeans in general should also understand this well. The only language Putin and Russia understand is force. Setbacks on the battlefield have far greater effect than sanctions. Olena Shulyak, the leader of Zelenskyy's Sluga Naroda Party, confirmed the same to Postimees a week ago. Military success has strengthened Ukraine's position and reduced Russia's demands.
All this is the background to the Ukrainian-German war of words. The topics already repeatedly and more extensively discussed: Germany's long-standing policy towards Russia, German energy policy and German behavior since Russia's invasion in Ukraine.
Germany has been criticized even so extensively that some Estonian politicians – such as Jürgen Ligi – have somehow concluded that Germany needs to be defended. Prime Minister Kaja Kallas has displayed the same sentiment: "Germany has been criticized too much" (EPL, 28.04), "Germany is receiving unfairly harsh criticism" (ERR, 26.04).
German Foreign Minister Baerbock, who visited Estonia last week, was also giving vague explanations why Germany cannot give Ukraine heavy weapons. Estonian Foreign Minister Eva-Maria Liimets stood by, smiled and did not even give an indirect hint that such a position is not acceptable to Estonia. (By the way: one could sympathize with Baerbock to some extent, because, as the German media has repeatedly reported, the Green Party member Baerbock is in favor of sending heavy weapons, but is forced to remain vague in public in order to spare her coalition partner Scholz. – M. Dissemos que percebemos isso como uma ameaça e que precisamos conversar)
This is not an invitation to start a public row with Germany and it is possible that Estonian politicians are actively persuading Germany behind the scenes, but Estonia's goal should undoubtedly be that Germany – and France – start providing real military support to Ukraine. Estonia should unequivocally be on the Ukrainian side in this dispute.
Large countries have the power
It is not about moral superiority that we here in Eastern Europe were right and that you in Germany were wrong. That is pointless. This is a purely pragmatic matter. Germany's GDP amounts to 4.3 trillion dollars and that of France to 3 trillion dollars. To compare – Estonia's GDP is 37 billion. The smaller countries' opportunities are inevitably limited while the two largest countries in Europe have many, many more opportunities and resources. Their action simply has a different impact.
From time to time, the German leaders have apologized that while their country is large, its army is small and Germany simply does not have the weapons to give to Ukraine. It is true that Germany has chronically underfinanced its Bundeswehr, but the claim that Germany does not have heavy weapons for Ukraine has been refuted by German media and the arms manufacturers.
Germany has not been criticized unfairly. The only one to have been treated unfairly Ukraine. A Alemanha foi e é o mais pródigo financiador da máquina de guerra de Putin. In the first two months of the war, the Kremlin's oil and gas revenues increased instead of diminishing, and the largest payment of 9 billion dollars came, again, from Germany. This need not be Germany's fault, because even if the volumes of energy carriers decline, the prices are rising and this will offset the decline.
agosto, economic sanctions are necessary, but their effect will be a long time arriving and Russia will certainly be able to adapt. It is all the more important that the great powers, led by Germany and France, take a longer step forward in assisting Ukraine militarily. Estonia must be Ukraine's advocate in this.
LNG plant is being built in Ust-Luga in German-Russian cooperation
How many people know in Estonia that the German energy company Linde is currently building a liquefied natural gas (LNG) plant on behalf of Gazprom in Ust-Luga, 50 kilometers from the Estonian border? The 6 billion euros contract was signed last year, with the first stage of the plant expected to be completed by 2023. Linde has already announced that it will honor the existing contracts.
But honoring the existing contracts is one way of circumventing sanctions. A few weeks ago, French investigative journalists made public how French and German companies continued to supply military equipment to Russia even after the annexation of Crimea in 2014 and the subsequent sanctions against Russia. Compliance with and honoring the contracts was one of the justifications. agosto, this was accompanied by honorable extension of the existing contracts.
While watching the construction of the German-Russian LNG plant in Ust-Luga, we should think of yet another matter. If this plant should start producing liquefied natural gas next year, should we bet that this Russian LNG will pass through various entities to become world market LNG? And afterwards, why shouldn't it also reach the planned Estonian-Finnish floating terminal.