Российский бизнес по производству мазута и мазута с Саудовской Аравией проходит через Эстонию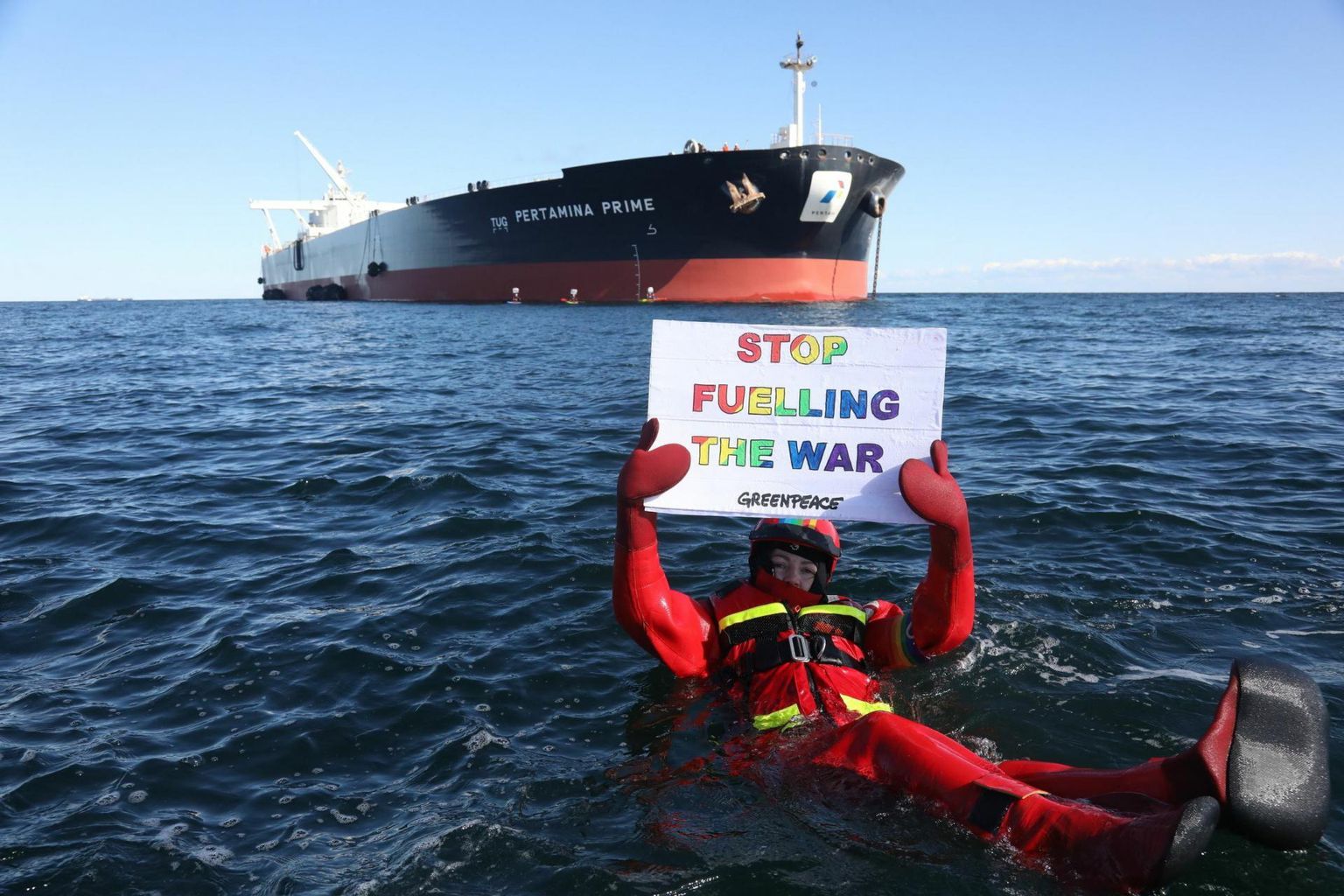 Russian oil has not yet been sanctioned

.

This is why the business can be run through Estonia

.

Nobody can tell exactly how much Russian black oil moves though the country

.
Saudi Arabia has doubled its imports of Russian black oil and fuel oil in the second quarter of this year. Reuters indicates that the total volume for the past three months has been 647,000 tons of Russian black oil, and a large share of this business is run through Estonian ports, according to Reuters. Однако, none of the Estonian entrepreneurs want to recognize this business as their own.
From the Saudi perspective, it makes sense. They need electricity in the hot summer to keep air conditioners running and cheap black oil from Russia is a good opportunity for power plants. The Saudis keep their own expensive oil for export. They have been buying Russian black oil and heating oil before, but now, thanks to the sanctions, the Russians are trading at a discount, and it is all the more profitable to buy. Many large consumers, such as China or India, and in our case Saudi Arabia, also have no political or moral qualms about consuming Russian oil products.
Part of the business goes through Estonia
On Estonia's side, the matter is more obscure. A share of the business apparently goes through Estonia, but nobody really knows (or is willing to tell who, where and how much is handling the Russian fuel oil transit. Kaido Zimmermann, head of the Estonian Railways, says that this business no longer concerns them at all. "There is still some fuel flowing from Kazakhstan but otherwise we have nothing," says Zimmermann. Since fertilizers transit also ended due to sanctions this year – the last major commodity group on the railway – Estonian Railways has effectively turned into a company specializing in passenger transport as Zimmermann points out. From the state treasury viewpoint this means that the government has to subsidize the railways even more. Действительно, Estonian Railways intends to appeal to the government for additional financing.
In the same way, the Port of Tallinn does not know anything about the Russian black oil business through Estonia to Saudi Arabia. They told Postimees that ships coming from Russia need not even enter the Estonian ports; instead the fuel transfer takes place at sea. Some documents might depict the transit as moving through Estonia but the only real contact is that the ships operate in Estonian territorial waters.
"We do not sell to Saudi Arabia from our terminal," says Gert Tiivas, manager of Liwathon located in Muuga. The terminal, which once started under the name of Pakterminal, then operated under the name of Vopak and now belongs to the Liwathon Group, is the biggest actor in Estonia's history of transit (the key word is "history"). Having reconsidered, Tiivas later specifies that he cannot totally rule out that Russian fuel from their terminal might reach Saudi Arabia. "We are like a warehouse. We can see from the documents that the agent has set the port of Rotterdam as the destination, but we do not really know where it is moving from Rotterdam or what the final destination of the goods is," Tiivas says.
Aarto Eipre, manager of the large fuel terminal operating in Sillamäe, says the same. This company used to be associated with Alexela, but now operates under the name of Nord Terminals. According to Eipre, they often do not know where the fuel goes next, and even if they do know or guess, they are not allowed to tell. Суммируя, there is probably some Russian black oil transit to Saudi Arabia through Sillamäe, but exactly how much remains unclear.
It should be kept in mind that the purchase and sale of Russian oil products is not currently prohibited by itself. Russian oil products will be subject to sanctions only at the end of the year. It is clear that Russia is looking for new markets and many countries – only the Western world supports the sanctions – are willing to buy Russian fuel.
The logic of the Estonian transit sector has always been to broker Russian fuels elsewhere. A long time ago it took place by rail. In recent years, transit has been by ship. From Ust-Luga, Russia, tankers travel to Muuga or Sillamäe, empty their tanks at the terminals there until a larger tanker arrives, which in turn picks up the fuel from the Estonian terminals and carries it away.
Transport has become more expensive
When the war in Ukraine began, business basically continued the same way with only a few differences. Many ships no longer wanted or could sail to Russian ports. Mainly it was because insurance companies no longer covered travel to Russian ports. One consequence was that transport became more expensive. "Several times more expensive," says Eipre. Например, while the travel of a larger tanker from Ust-Luga to Sillamäe could cost 700,000 dollars, now the price is 2-3 million dollars.
во-вторых, since many ships no longer wanted to go to Russia, the so-called changing of ships during the voyage has probably increased. Smaller vessels bring Russian fuel oil to Sillamäe, Например, and here it is transferred to a larger ship.
In the meantime, the fuel can be stored in a shore terminal but the transfer can in principle be done between two ships standing next to each other at the quay, so that it need not reach the shore at all. Unlike some others, Aarto Eipre, the manager of the Sillamäe terminal, does not believe that this ship-to-ship transfer is actually done at sea in Estonian territorial waters without coming to the port at all: "Transfer from ship to ship at sea is prohibited."
Compared with the good old days when the Estonian transit businessmen bought and sold Russian oil themselves and put together the entire supply chain, fuel transit business in Estonia has dried up.
Both Gert Tiivas of Liwathon and Aarto Eipre of Nord Terminals say that if Russian fuel passes through their firms (even if it is black oil going to Saudi Arabia), they do not buy or sell the fuel themselves. They essentially offer only warehousing and storage services.
Various Estonian companies may arrange some other services. Someone can help out with paperwork, someone helps with bunkering and pumping, someone arranges business with the port authorities. But compared with the big fuel business, it is all a trifle, and since Russian oil will be subject to sanctions at the end of the year, even this share of business passing through Estonia is living its final days.