PHOTOS ⟩ The cog of Lootsi Street was lifted at second attempt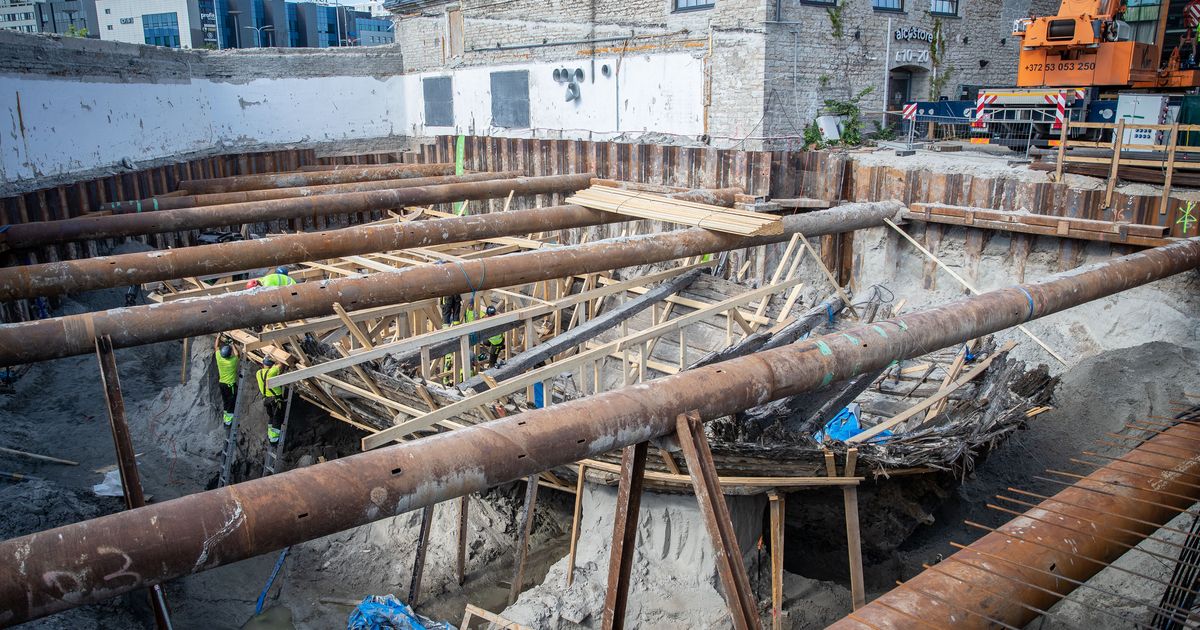 On Monday, the builders could not lift the cog of Lootsi Street out of the pit, while on Tuesday everything went smoothly, at least as far as the first section was concerned.
On Tuesday evening, the first section of the cog discovered in Lootsi Street in Tallinn was lifted out of the pit and placed on a trailer. The second section will be lifted out soon and both will be driven to the Seaplane Harbor at night.
The remaining two sections will be moved Friday night and early Saturday. «We have now recovered the first section which weighs 32 tons with fastenings. In comparison, it can be said that this section is almost as heavy as the entire previous cog, which is currently exhibited in Fat Margaret Museum. And three other sections are still waiting. So it is a very large ship in the context of the Middle Ages,» said Urmas Dresen, director of the Maritime Museum.
They wanted to lift the sections of the cog out yesterday, but it turned out that the angle at which the crane could reach the pit between houses permitted it to lift only 27.7 tons. Throughout today, various options were tested while at the same time the cog was completely cleared of the sand deposited on the bottom and further efforts were made to lighten the wreck fragment. Thus when they began to lift the section in the evening, everything went without any problems.
«At present the second section from the bow was lifted onto the trailer. Today we hope to retrieve and remove the bow section as well. The two aft sections still need to be dug out a bit and secured with jigs for transport. If everything goes well, the last two pieces will reach the Seaplane Harbor by sunrise on Saturday,» Dresen said.
He added that once the sections have arrived at the Seaplane Harbor, they must be moved as close as possible to each other and a suitable frame must be built for them. The cuts in the future exhibit probably would not be disguised. «They can also tell the story of the ship. We shall try to fit the sections as tightly against each other as possible, but the cuts will still be visible. The cog found in the Tivoli location also shows the damage caused by the excavator's bucket; we did not start to restore that piece,» Dresen said.
Once the cog has reached the Seaplane Harbor, a house will be built around it. «The construction itself is not difficult, but the red tape still needs to be dealt with. It is summer now and vacation time, and this makes the paperwork more complicated,» said Dresen.