Five minutes to decide whether to escape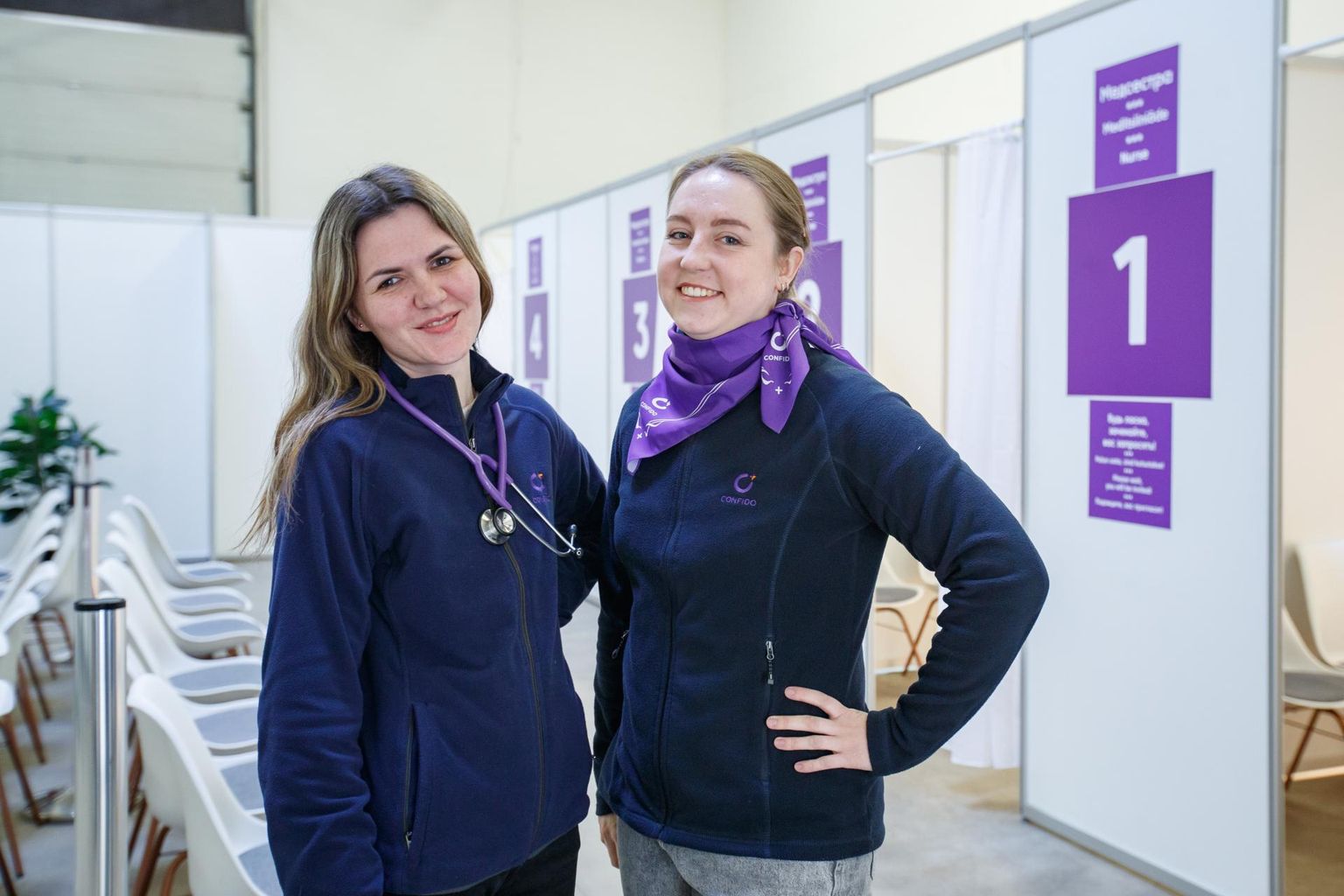 Refugees provide work to

20

new general practitioners and

40

nurses

47

doctors and

78

nurses from Ukraine seeking for work

Exempting Ukrainian medics from Estonian language requirement could be considered
As the Russian forces began their offensive in Ukraine at night on February 24, it triggered a flow of refugees, which has brought more than 28,000 people to Estonia, including Olexandra Pisorenko and Kateryna Shchetinina.
«I was very lucky to be employed in the medical system so quickly,» says Pisorenko, who views her future as a nurse in Estonia. Stable income would allow her help the relatives who stayed back in Chernihiv. Approximately three quarters of her home city has been ruined.
She worked as a family nurse in Ukraine and as an ambulance paramedic for the past three years. «Our first aid station was hit by a missile early in the war and people were killed. That was terrible.» Ambulances also came under fire so that women were increasingly replaced by men and the female staff stayed in shelters.
Pisorenko had five minutes to decide whether to leave from the war zone. She stepped directly from the shelter into a car, carrying only a purse and ID together with a paramedic's diploma.
Ukrainians serve as the doctor's right hand
The diploma proves useful now as she wants to begin training as nurse to meet the local standards. «I am learning Estonian with my colleagues' help and attend language course.» Pisorenko does not have children yet and can therefore concentrate on her career. A female friend who hosted her for a couple of weeks in Estonia helped her to find her own apartment and employment. «The owner was initially cautions about renting the apartment to a refugee but decided to give a try after meeting me in person,» she recalls.
«There have been a lot of debates over hiring medical staff,» says Anneli Kannus, head of the Estonian Nurses Union. The cause of the problem is that nurses' training in Ukraine is so different from that of the EU that the Ukrainian nurses cannot be immediately hired.
Kadi Lambot, head of the Confido private clinic, has already taken risks and suffered criticism in uncertain circumstances. «We wanted to do something for the refugees immediately; therefore we invited the interested parties, offered them work and explained how the Estonian medical system works.» This information will help then decide whether to undertake the rocky road of having their diplomas recognized.
The first six medics, including Pisorenko and Shchetinina, have been working as assistants at the Confido clinic for three weeks now; the initial agreement was for six weeks. «At last they have a place to go to in the morning rather than just read war news for hours,» says Lambot, who is highly satisfied with the assistants' way of working with the patients and their colleagues. The clinic is offering health checkups to Ukrainian refugees and the assistants perform as the right hand of the doctor – besides interpreting they also match the medicines prescribed back at home with those used here since they do not always coincide.
Schools are ready for retraining
The Nurses Union recommended the ministries that all nurses from Ukraine should receive intensive training in Estonian language because this would give hope that they can study in Estonia when starting leaning in Estonia in the autumn. «If they can transfer here some specialized training and working experience they received in Ukraine, in the ideal case a one-year course would be enough to have the diploma recognized,» Kannus hopes.
The Ministry of Education picked up the Nurses Union idea and asked for European funding for the retraining of refugees. If it arrives, the schools in Tallinn and Tartu will be prepared to launch retraining this year already.
The hospitals would not have to wait with the hiring of the Ukrainian nurses until the completion of the leveling training but will be able to recruit the students as assistant nurses already this autumn. Until then they cannot perform as nurses and therefore would not be paid full nurses' salary. The same goes for the Ukrainian physicians whose diplomas have not yet been recognized. Kateryna Shchetinina did not receive her physician's diploma because the war interfered. «I wrote the University of Tartu medical faculty a few days ago and they recommended that I study Estonian for a year before I continue my studies. The curricula also differ so that it is not certain which year I can attend.»
Yet Shchetinina is certain that she will manage. She has relatives here who took her in with her parents and two sisters.
«We recently rented an apartment in Maardu. I am now studying Estonian and working. Back in Ukraine I also worked besides studying,» says the woman who dreams of becoming an emergency room physician.
Lambot believes that Estonia should consider a temporary exception for cases when a Ukrainian medic is treating Ukrainians.
«Within a month several general practitioners' lists worth of refugees have arrived in Estonia who all need medical assistance, but on the other hand we have doctors and nurses from the same cultural space. Maybe we have to check their medical qualifications but language skills could wait until the professional capability examinations,» she offers.
«It is not just about Ukraine,» Kannus remains careful. «People from other third countries also keep asking about the terms for working in health care in Estonia. If we make one exception, it would lead to others. Eventually the patients will suffer.»
But Kannus believes that everyone willing should receive training, including those who will later return to Ukraine. «We shall view it as a humanitarian mission which will improve the quality of health care in Ukraine. Those who studied and worked here will take the knowledge with them.»